Electrical Circuits Laboratory
In this lab students are trained to connect different types of circuits , analyze the circuits and verify various circuit theorems, transient and steady state analysis of circuits, find the circuit parameters, draw the locus diagrams etc.,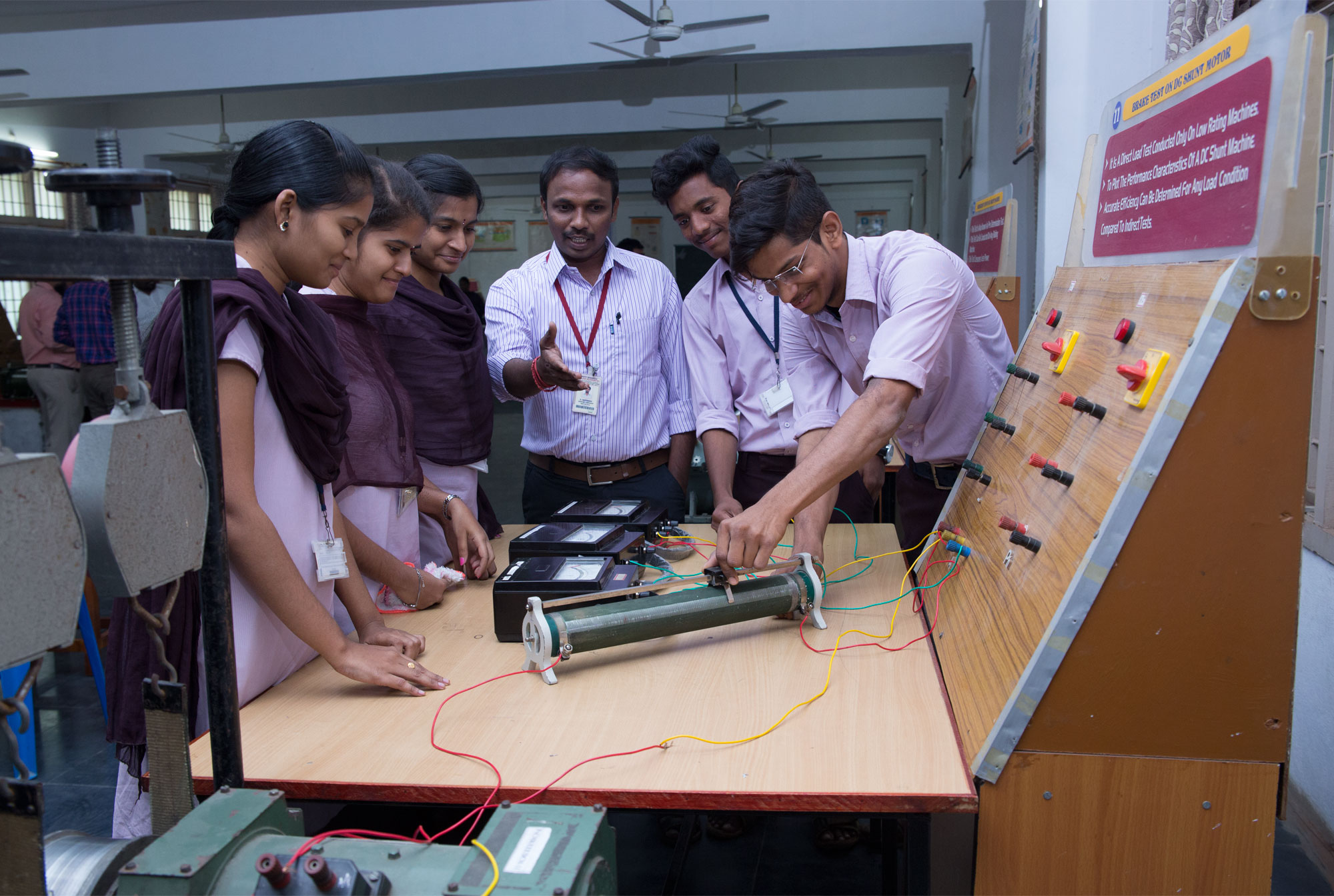 Equipments
Equipped with Regulated power supply
Function generators
CROs
Decade Resistance Boxes
Decade Capacitance boxes
Rheostats
Voltmeters (MC meters & MI meters)
Ammeters(MC meters & MI meters)
Auto transformers and multi-meters.
Electrical Measurements Laboratory
For electrical engineering, a saying properly fits, "difference between exactly right and approximately right". It firmly implicates that exact values are essential in electrical engineering therefore measurement of electrical parameters like current, voltage, power, energy, resistance, capacitance, inductance, power factor, frequency are very important for proper monitoring and controlling of systems.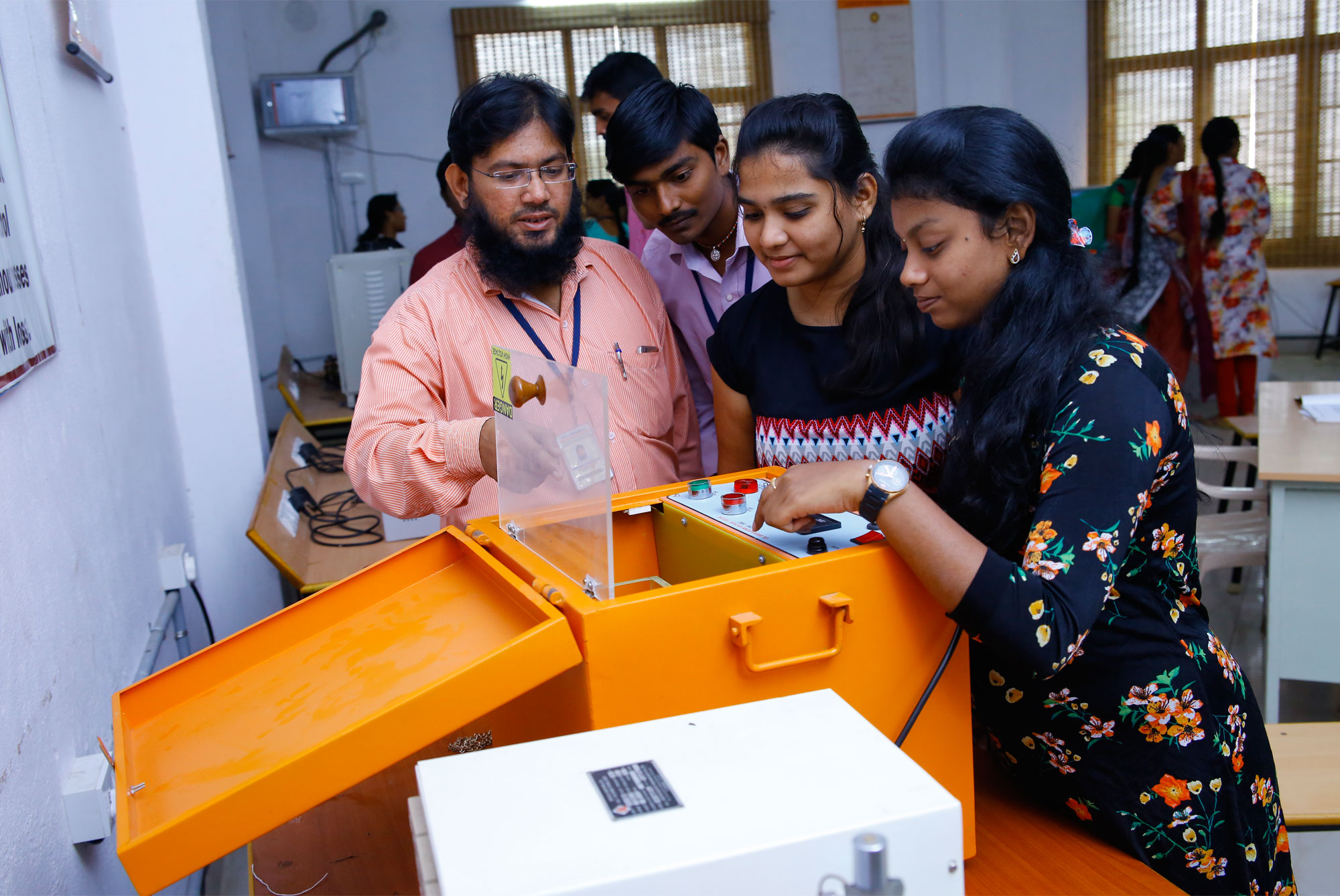 Equipments
Schering Bridge
CT's, Energy meter
Crompton DC potentio meter
Kelvin's double bridge
Power factor meters
Resistive, Inductive& Capacitive loads
MI and MC Voltmeters, MI and MC Ammeters
Watt meters and Rheostats.
Control Systems Lab
In the industrial atmosphere, the control system equipment used is a very sophisticated and costly affair, just because of the reason that the control variables are very non-linear in nature. Henceforth, there is a tremendous effort put forth by the institution to establish such equipment required for Control Systems Laboratory. The software package popularly called MATLAB which makes it easier for the students to simulate the results and study the nature of any type of system predominantly.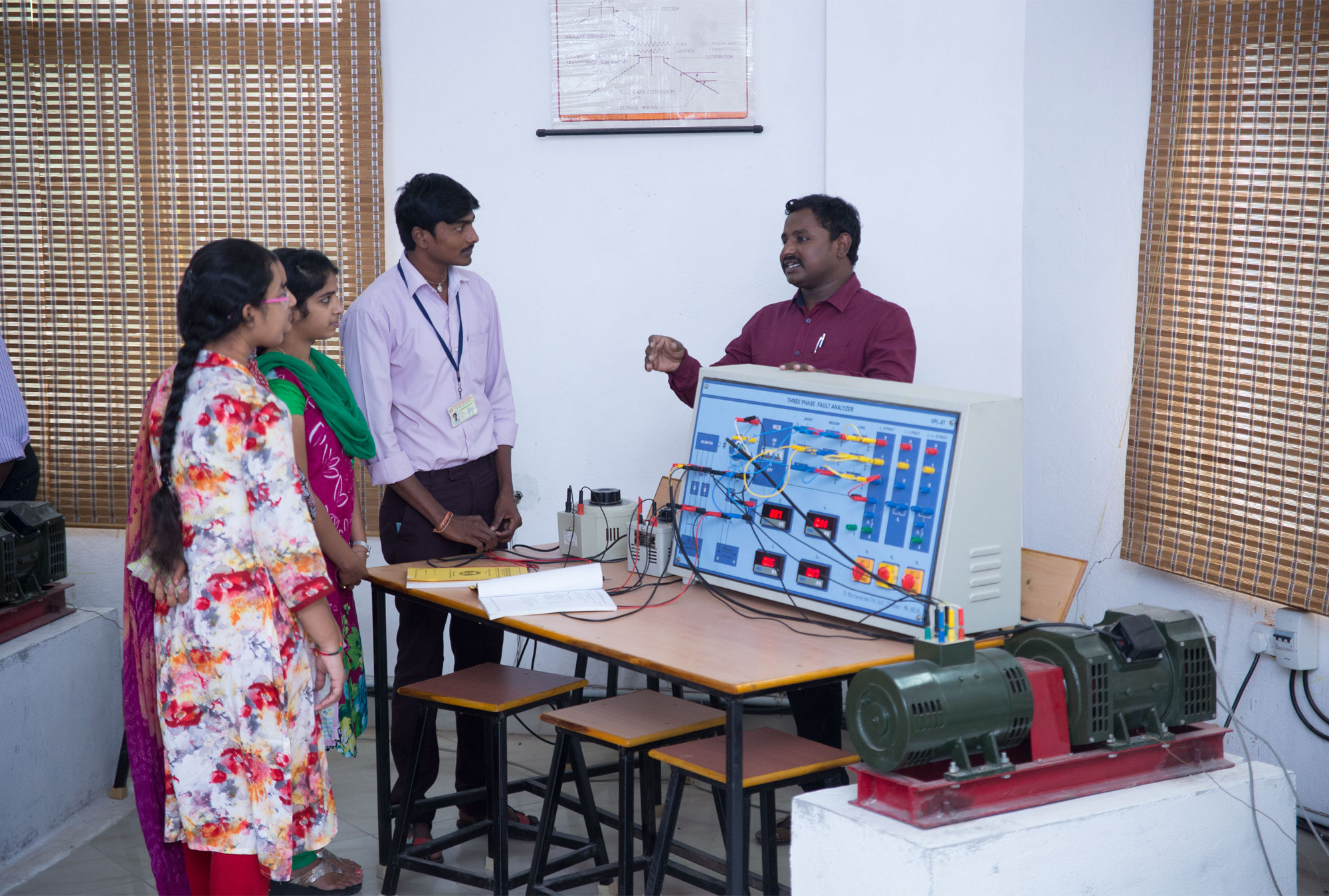 Equipments
Equipped with Magnetic amplifier kit
Lead-lag compensator kit
Synchro transmitter and receiver kit
PLC trainer kit
Transfer function of DC motor kit
Transfer function of second order system kit
AC servomotor kit
Dc servo motor kit and multi meters.
Power Electronics Lab
Power electronics circuits can be treated as high-end electronic circuits which work more efficiently in comparison with conventional circuits. which intuitively explains that a huge amount is invested for establishment of this laboratory.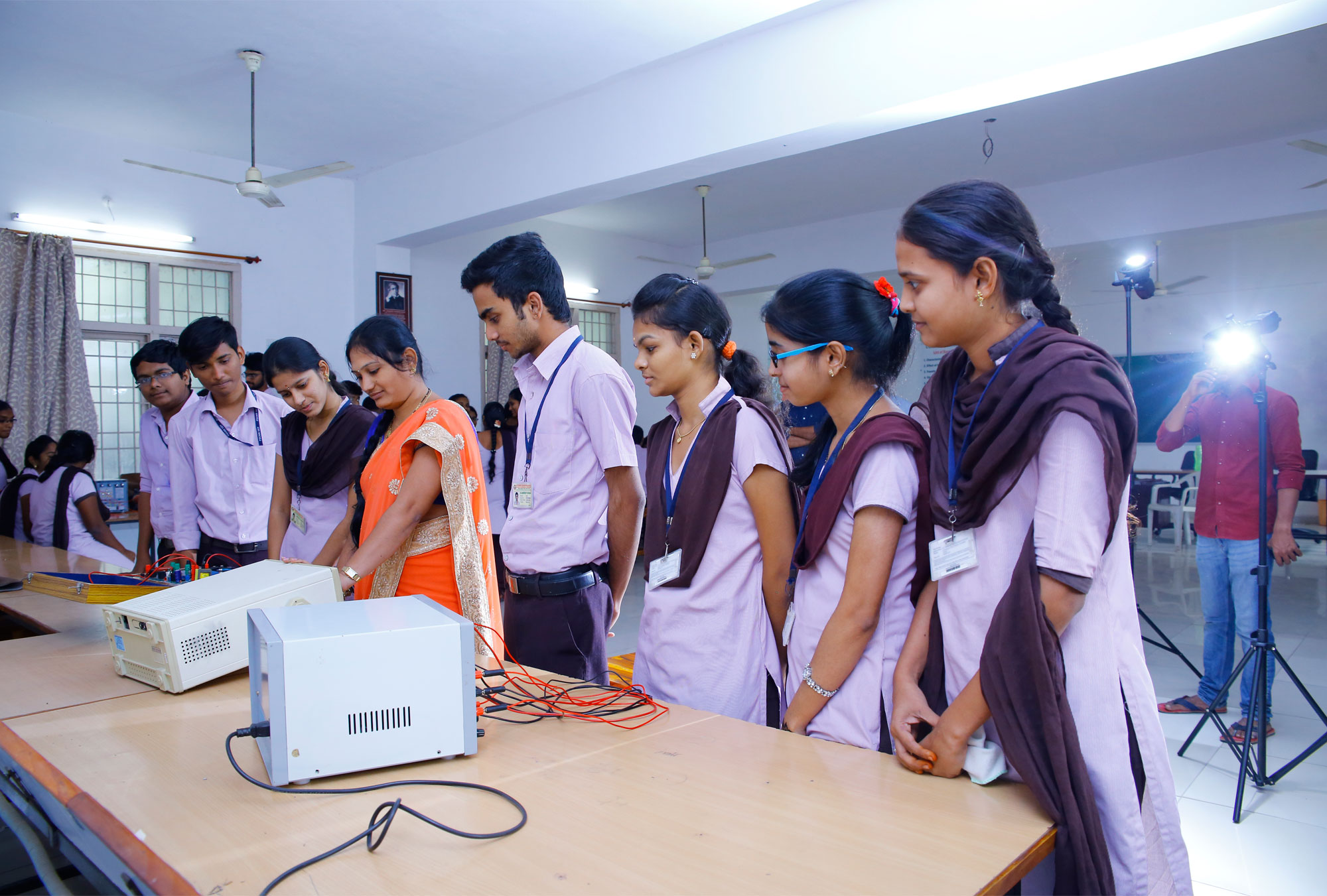 Equipments
Forced commutation kit
1- phase cyclo converter
RC firing circuit
SCR, MOSFET, DIAC, TRIAC Study kit
Series inverter
Parallel inverter
CRO's
Rheostats
Electrical Machines Laboratory
This lab is well equipped with various A.C. and D.C. machines comprising different types of motors, generators, transformers in a floor area of 250 sqm. The students will have wider scope to understand the practical aspects of various motors that are used in fans, elevators, traction etc. and various generators that explain how electrical energy will be formed.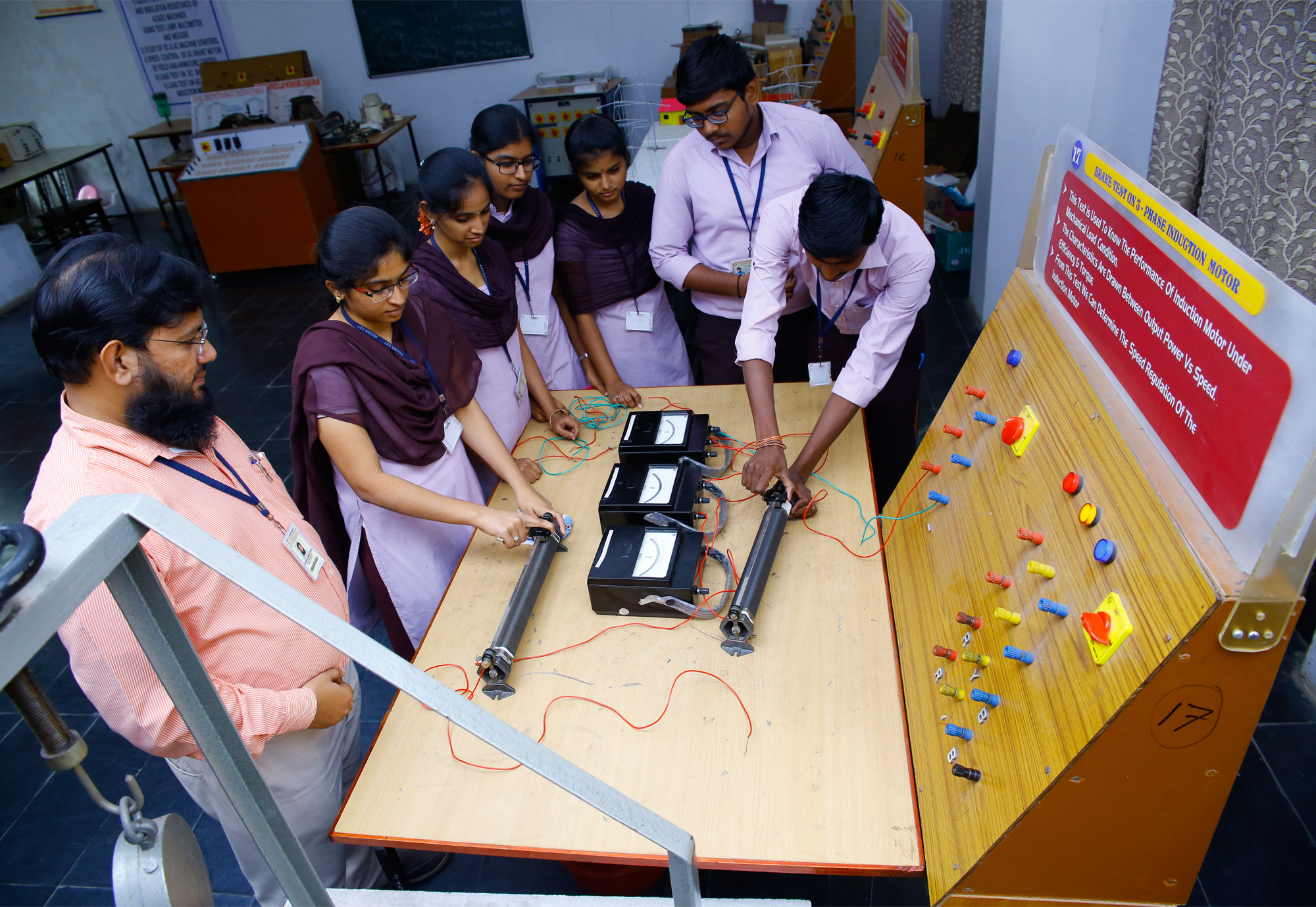 Equipments
Equipped with DC Series motor coupled with DC series generator.
DC shunt motor- Shunt generator set.
DC shunt motor- compound generator set.
DC shunt motor with mechanical load.
DC shunt motor- alternator sets.
3- phase induction motors, single phase transformers.
Single phase auto transformers.
Three phase auto transformer.
Rheostats, Voltmeters (MC meters & MI meters), Ammeters(MC meters & MI meters)
Auto transformers and multi-meters.
Simulation Laboratory
Simulation is a process of performing the real time experiments virtually on a computer. It provides tremendous exposure to the students to explore various solutions that can be obtained for a given problem, i.e., a student may have an inner fear to work with a 220 Volts DC supply or with a 230 Volts, 50Hz AC supply, upon simulating such experiments, it is pretty much easier to explore its performance characteristics the minimum wastage of power with minimum time. Various popular and effectively result oriented licensed software packages like MATLAB, P-SPICE, Multisim etc., are installed for use in this 35 desktops.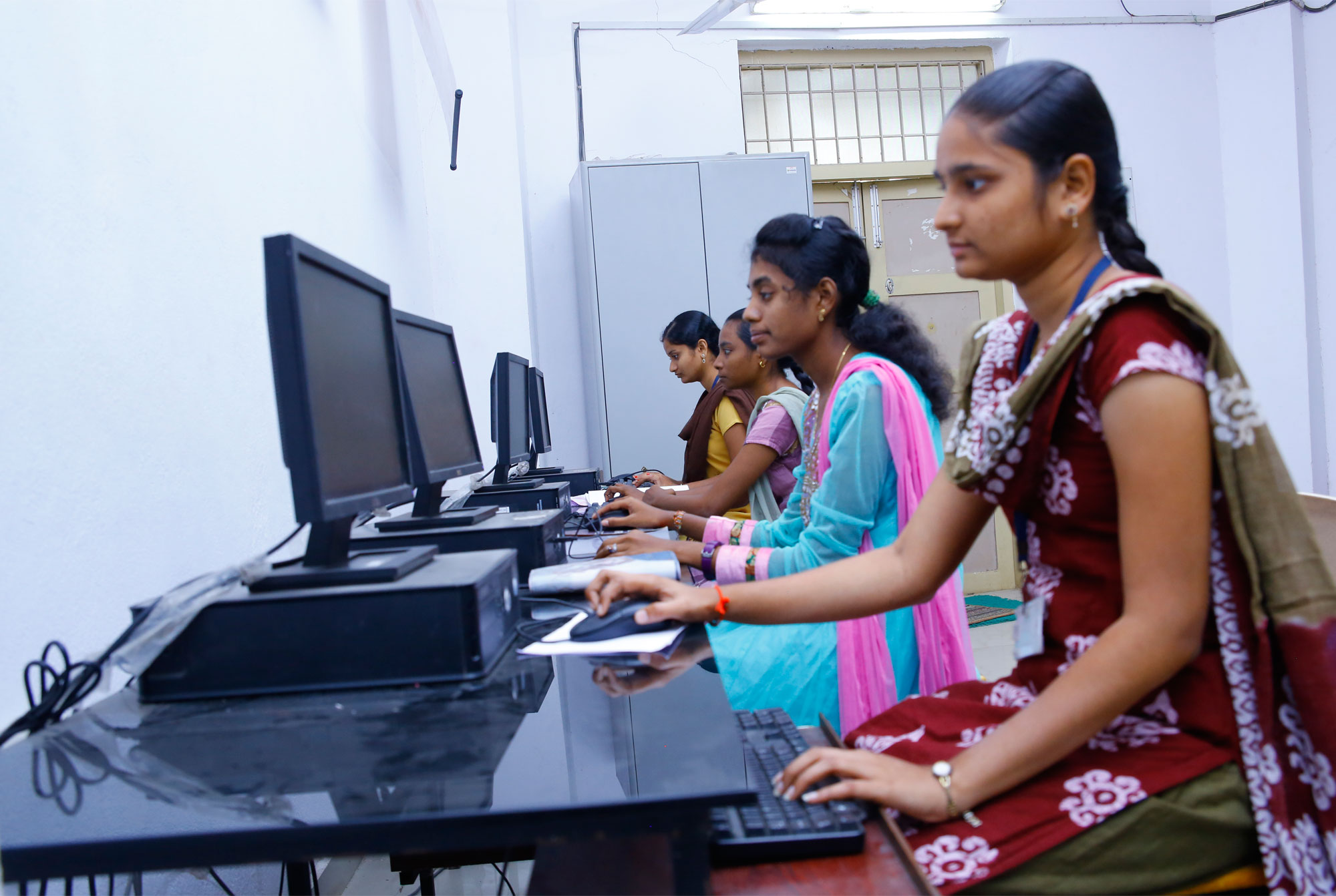 Equipments
33 computers with 2GB Ram. 320GB Hard Disk, Pentium Dual Core Processor(2.80GHz).
UPS with 7.5KVA Power Rating.
MATLAB and PSPICE Software.
Power Systems Laboratory
The power systems laboratory is responsible for teaching and researching the area of electrical power systems. Students can get concrete ideas about the different system operations and phenomena. Transmission line performance under different operating conditions; load characteristics; real and reactive power flow and control for a transmission line; characteristics of different types of relays; power system protection using relays; measurement of sequence components; balanced and unbalanced faults; power system transients and stability.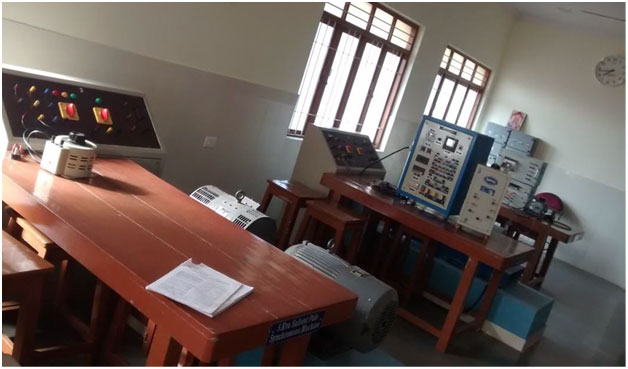 This laboratory is equipped with various relays set up on panels, representing practical on-field situations at a modular level for proper understanding of how the different protective measures work in the field, individually. Understanding these individually, the students become well equipped to analyze their working together in the field. The various practical setups that have been prepared for various topics of power system protection are as follows: Over current protection, earth fault protection, directional relay operation, reverse power protection of generator, distance protection, etc.